Ethereum's long awaited Shapella upgrade is finally upon the crypto industry. Traders are now parsing how an unprecedented volume of unstaked ether will impact the price action of the ecosystem's native token.
Shapella is set to tie together the protocol's Shanghai upgrade and its Capella layer on Wednesday, making 18 million ether staked on the Ethereum blockchain available to trade.
Validators have been able to stake ether since September 2022, when Ethereum's Merge executed, transitioning the blockchain from a proof-of-work consensus model to proof-of-stake transaction.
Ether (ETH) traded in a relatively narrow range over the past seven days as Shapella neared. Prices were roughly flat — up .46% — over the last 24 hours through 2 pm ET on Wednesday. During the same window, its dollar value fluctuated between a low of $1,863.37 and a high of $1927.35, according to Blockworks Research.
Just 170K ETH for sale?
About 18 million staked ether are set to be available for withdrawal once Shapella happens. Market analytics company Glassnode said on Tuesday that the firm expects traders to sell a scant 170,000 ETH "immediately after the Shanghai upgrade."
Because there are Ethereum protocol-level limitations on how much staked ETH is unstaked daily, according to Glassnode, just 70,000 ETH (around $133 million) "will actually become liquid" as a result.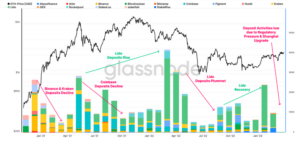 To continue reading:
https://blockworks.co/news/18m-eth-to-hit-market