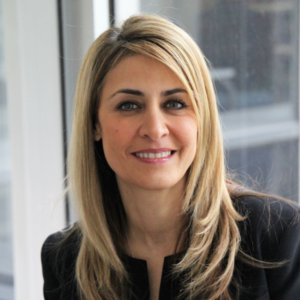 Rima is a Vice President of Enterprise Sales at Nvidia. She and her team focus on enabling customers to unlock business opportunities by leveraging Next Generation technologies and Artificial Intelligence. She joined Nvidia 3 years ago to build the sales business from scratch for the Eastern half of the United States. This year Rima was asked to lead the business for several verticals across the Americas namely Healthcare, Life Sciences and Manufacturing. 
Before joining Nvidia, Rima spent 18 years at Cisco, the last 4 of which she led the New York Enterprise business with responsibility for the company's entire portfolio of solutions. 
Rima brings a wealth of diverse experiences having worked in the areas of Information Technology, Communications and Machine Learning where she held leadership positions in both Sales and Engineering. She engaged with Global Enterprise and Fortune 100 customers across the Financial Services, Healthcare, Service Provider and Public Sector market segments. 
Prior to Cisco, Rima worked at Sun Microsystems consulting with large Financial Services clients on Server & Software solutions. She also worked at UBS as a Trading Floor software developer and at Syncsort as a software engineer. 
Rima is passionate about developing leaders, she was the executive sponsor of Cisco's Momentum leadership development program, a year-long program aimed at preparing high performing leaders for more senior leadership roles.
She's also passionate about the impact of Inclusion & Diversity on business. She founded and led the Cisco East Women's Action Network and then co-founded the Cisco Empowered Women's Network, an externally focused network that offers tools for women in IT to enrich and grow their careers. 
She hosted Nvidia's first "AI for Business" customer Summit. Rima speaks regularly on topics ranging from Artificial Intelligence to Leadership and Inclusion & Diversity. 
Rima holds a Master's degree in Computer Engineering from Syracuse University and a Bachelor's degree in Computer and Communication Engineering from the American University of Beirut. She also completed Leadership and Business Executive classes at Harvard University.
Rima lives in New York City with her husband and two sons.